Roof Cleaning
When choosing a company to clean your roof you can confidently choose Wolfys Sunrise Roofing: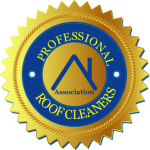 We are PROFESSIONAL roof cleaners
We are licensed.
We are fully insured.
Our results are immediate.
We guarantee your satisfaction.
We stand behind our work.
We are members of the local community.
We are roof restoration experts.
Will give you a firm quote, not an estimate.
We can save you thousands of dollars over a roof replacement.

Is It Harmful To Your Home or Family?
Unfortunately algae can be harmful to your home and or family. Algae will cause physical damage to your shingles and it can be harmful to your health as well.

How Long Does It Take?
The roof cleaning process itself only takes a few hours. The results are even more rapid. We can have your house looking like the after in our before and after pictures before we leave.